Please see attached announcement and datasheet regarding the Parker Velcon CDFX Water Barrier Filter which is designed to be a drop-in replacement for the 2″ monitors.
Parker Velcon CDFX elements are 100% qualified to EI 1588 1st Edition and can be installed at fueling locations not required to meet A4A or JIG operating standards; including General/Business/ Private Aviation as well as Military Aviation.
For commercial applications, the CDFX is currently undergoing JIPL field trials and it is highly expected to become a part of the operating manuals for both A4A and JIG in 2021.
If you wish to order some CDFX filters for your own testing and evaluation purposes, please contact your local Velcon distributor for pricing and delivery.
VEL2296-0221-BUL-CDFX-EI1588-Water-Barrier-for-Aviation-Fuel-Filtration
clarifier-021521-CDFX-Ready-for-Production-3pg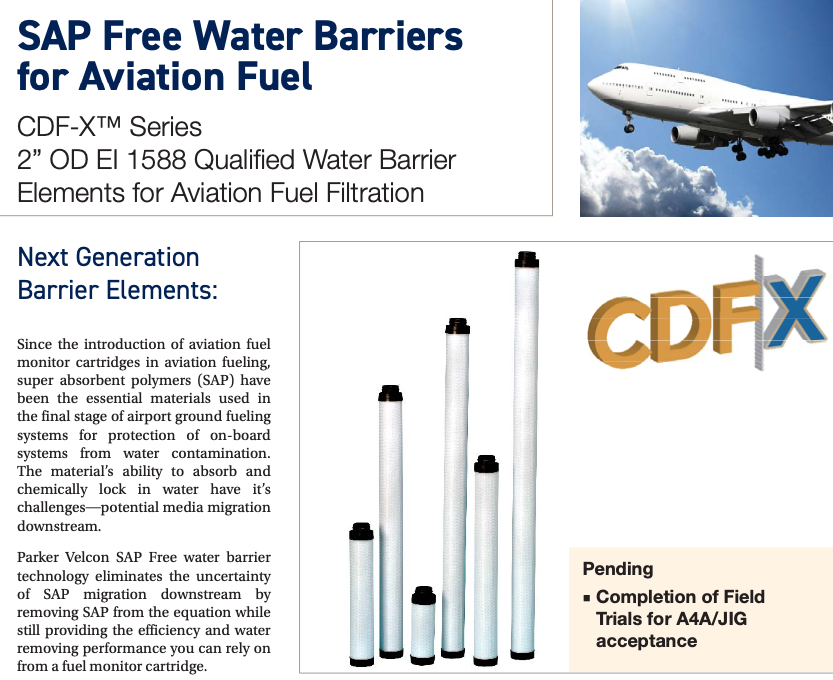 Parker Velcon CDFX Water Barrier Filter is now available!