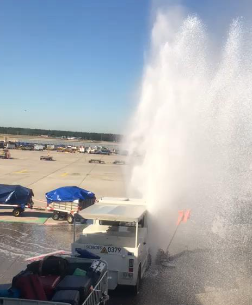 In recent years, JIG has been made aware of a number of incidents that occurred when hydrant pit couplers were struck by aircraft ground servicing vehicles such as baggage tractors, high loaders, or conveyor belts. In most of these incidents, the coupler was struck by vehicles during fuel flow for aircraft fuelling resulting in spillage and in some cases fuel release under pressure (forming a geyser such as the one shown) with spillage of a few thousand litres.
What appears to be a common characteristic in all of these recent incidents is that the hydrant pit couplers and valves did comply with EI 1584 3rd/4th edition but were not of dual air/lanyard pilot design. The hydrant pit valves were fitted with a lanyard only.
The JIG Operations Committee with support from the JIG Council have therefore unanimously agreed to mandate in the next revision of JIG standards (issue 13 – planned for Q1-2021), that dual air/lanyard operated pilots are fitted on all hydrant pit valves. The implementation period for this change is yet to be determined but likely to be at least 3 years from the publication of JIG issue 13.
Please download the bulletin below:
JIG Bulletin-126-Dual-Air-Lanyard-pilots
Eaton Carter's Dual Pilot comes with 2 options:
Y option remote pilot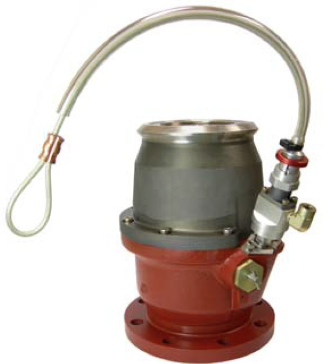 Z option fixed pilot 
Contact us if you wish to find out which pilot option works best for your operation.
Advance Notice of Change to JIG Standards for Lanyard Operated Hydrant Valve Pilots